Corporate Image and Reputation
Corporate Image and Reputation
In the simplest sense, how you are seen by your stakeholders is your corporate image and reputation. Corporate reputation emanates from all of the business activities and communications a company has, either intentionally or unintentionally, undertaken in its marketplace. Stakeholders, whether customers, employees, the financial community, special interest groups, or simply the general public, look at a company differently because they focus on and look at different parts of the business. By understanding both the commonalities and differences across stakeholder groups, a company will be well positioned to maximize the return on its performance and communication improvement efforts. This, in turn, can influence stakeholder loyalty, a key influencer of business success.
Click Image to Enlarge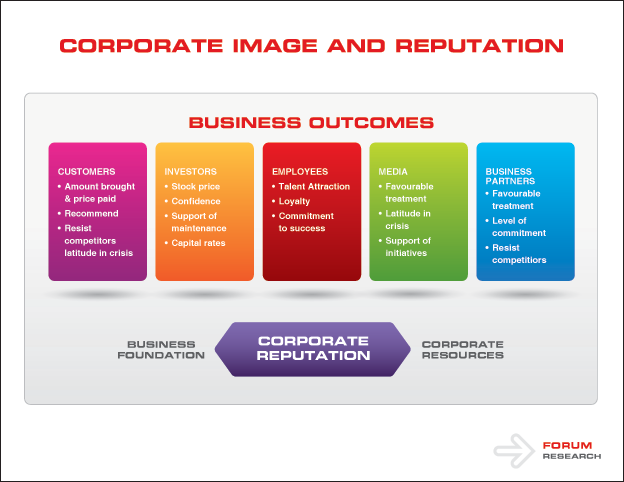 Reputation has long been recognized as an important intangible asset to a firm. It is well documented that a solid corporate reputation can result in:
Investors feeling more secure
Communities being more supportive of your business activities
Capital markets viewing you as a safer investment
Customers paying more for your products or services
Customers recommending you to others
Employees feeling greater commitment to your company success
Media treating you more fairly
Business partners and suppliers giving you more favourable treatment
Click Image to Enlarge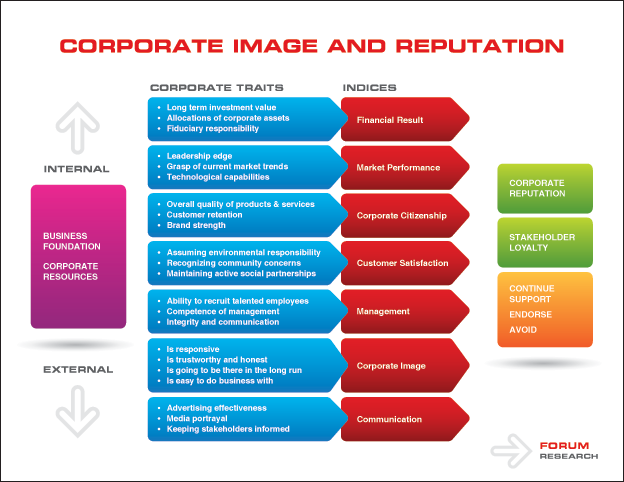 A company's reputation can be an invaluable asset, as well as a great liability. Forum Research helps leading companies measure and manage their corporate reputation. Our portfolio of solutions provides clients with key "dashboard indicators" to tell them how they are currently seen by their various stakeholders. However, Forum Research does not just leave you with this. We also provide key diagnostic insight — in effect, 'roadmaps' for effective reputation management.
Click Image to Enlarge